For direct bank transfer:-
Bank Name: Westpac Bank Account Name: Burmese Community Development Collaboration
Covid Donation with PayPal
BSB: 032-078
Account number: 760591
SWIFT code: WPACAU2S for overseas.
Ref: DonationForCovid19.
Covid Donation with QR Code

Contacts:
U Maung Maung Myint 0437 470 464
Nila Wai Toe 0430 051 070
Judy Kyu 0421 179 333
Sophia Sarkis 0423 340 502
.
Kyaw Kyaw Aung Moe 0421 099 412
Kyaw Zwa Oo 0428 723 702
George Wynn 0476 823 138
Kyaw Soe Han 0409 852 360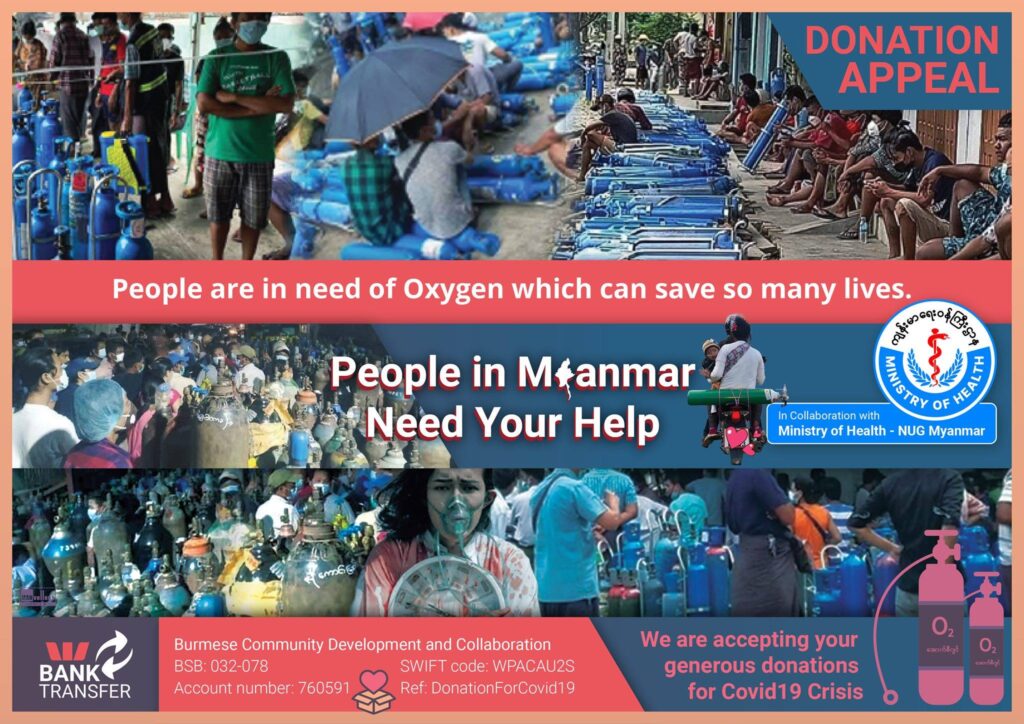 People in Myanmar are in absolute despair amid the third wave of Covid-19, Military's brutal killings and oppressions.
Even describing the situation in Myanmar as hopeless is an understatement – in fact, the situation for most people is helpless..
We need your help from one human being to another human being for their survival. At the moment, people in Myanmar are in need of Oxygen.
In collaboration with Ministry of Health – National Unity Government (NUG) Myanmar (elected by people of Myanmar), we are appealing to you to donate any amount of money so we can distribute Oxygen requirements for the Covid patients in Myanmar.